We are excited to share that world-class payment gateway provider and online gift card retailer Bidali has added Enjin Coin (ENJ) as a payment method across their ecosystem!
Pay with ENJ
It's now easier than ever for any online business to allow payments with ENJ.
Bidali's innovative payment platform even allows businesses that accept ENJ to be paid out in local Fiat currencies. With all conversions and taxes calculated automatically, Bidali's payment gateway is the most comprehensive out-of-the-box cryptocurrency payment tool on the market.
"Enjin is a fast-moving project with an amazing team and community. Their ERC-1155 proposal is a great evolution within the Ethereum token specifications that we feel will undoubtedly increase adoption of blockchain within gaming. We are really excited to connect the Enjin community with brands that resonate and help spread the word about the Enjin ecosystem."

― Eric Kryski, Bidali CEO
Bidali is actively building relationships with gaming companies all over the world with the goal of bringing more mainstream attention to the blockchain community, popularizing cryptocurrency as a payment method, and supporting adoption of blockchain-based technologies.
Buy Gift Cards with ENJ
Holders of Enjin Coin are now also able to use their ENJ to buy gift cards on Bidali's online gift card store, where they can purchase from a wide variety of big name brands such as Amazon, Xbox, PlayStation, iTunes, Google Play, and more than 100 other household names.
"We are really excited about Bidali as a company. This ambitious team is creating a payment and accounting system that makes it very easy for any online business to accept crypto and receive fiat. For them to kick-start this process by offering gift cards that enable users to purchase goods directly from their favorite brands using Enjin Coin and other cryptocurrencies is a testament to their innovative approach."

― Maxim Blagov, Enjin CEO
This has massive implications for gamers who want easy access to tangible rewards.
Players who earn ENJ from playing games or selling their gaming items can now purchase real-world products via the Bidali gift card store and any other online retailer that uses Bidali's payment gateway to accept ENJ.
This provides a fast option to access goods earned from gaming, delivering a level of gaming asset liquidity the games market has never before seen.
Enjin Beam Giveaway
To celebrate the launch of ENJ on Bidali's payment platform, Bidali will be hosting a giveaway using Enjin Beam with a prize pool containing 600 items backed by more than 50,000 ENJ total!
The first 600 people to scan the QR will have a chance to win free blockchain gift cards worth up to $50 USD.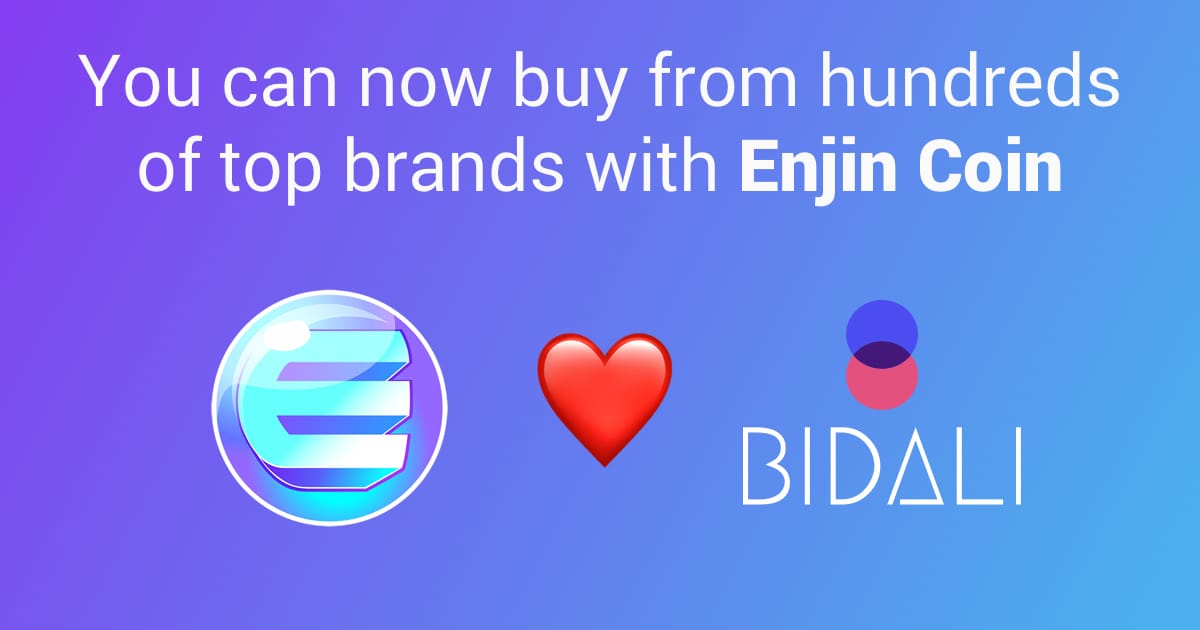 To be eligible for the giveaway, users must register via the form on Enjin's Bidali page. The QR will be emailed to registrants on December 17, 2018 at 2:00pm PST.
Sign Up for Our Newsletter
Never miss an update. Receive the latest and greatest content straight to your inbox.